Young Innovator Eduardo Cruz Rojo uses biological control methods against fall armyworm
By Jennifer Johnson
Eduardo Cruz Rojo did not come from a farming family, and never expected to work in agriculture. However, this 26 year old from Alfajayucan, Hidalgo, Mexico with a degree in logistics has been able to earn enough money from agriculture to quit his office job just by employing innovative and sustainable eco-friendly solutions on his maize farm to reduce pests and increase yields—and he is helping other farmers in his community to do the same. Eduardo was recently awarded the MAIZE Youth Innovators Awards 2019 – Latin America in the Farmer category for this work.
The awards, an initiative of the CGIAR Research Program on Maize (MAIZE), seek to recognize the contributions of young women and men who are implementing innovations in Latin American maize-based agri-food systems. This is the third instalment of the awards, following Asia in October 2018 and Africa in May 2019. The awards ceremony took place at the 23rd Latin American Maize Reunion in Monteria, Colombia on October 9, 2019.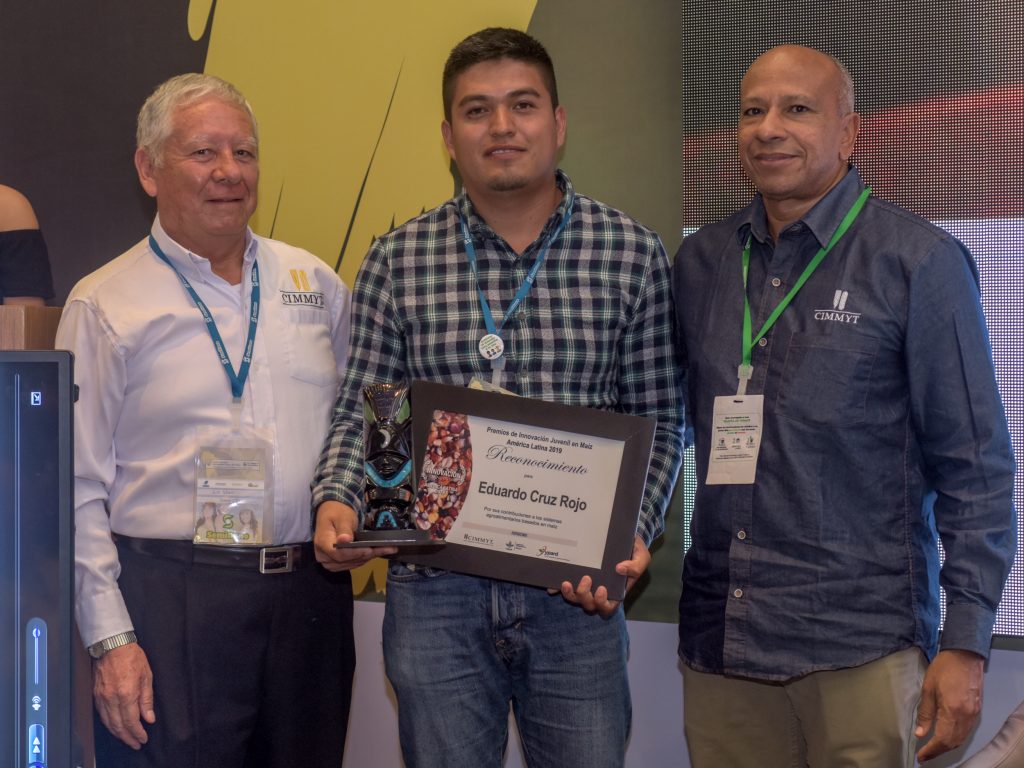 Q.) Tell us about your innovation
A.) The innovation that I am working on is using biological control methods such as pheromone traps to control fall armyworm in maize, as well as using earthworm compost for soil improvement.
The fall armyworm is an insect pest that greatly affects maize around the world—it is native to the Americas, and spread to Africa in 2016 and Asia in 2018. It is one of the worst pests impacting maize in my home state of Hidalgo, and can affect up to 50% of the crop. We used to have to apply chemicals to the fields two times a year to control it, which was very expensive and can be harmful to the environment. We asked technicians at the Valles Altos hub of the MasAgro project, a joint initiative between the International maize and Wheat Improvement Center (CIMMYT) and Mexico's Secretariat of Agriculture and Rural Development, for advice. They recommended to local farmers that we use pheromone traps as a biological control methods for the pests, and three of us decided to try it out to cut costs, depend less on chemicals and protect the environment.
I made the pheromone traps by myself just by cutting holes on three sides of an old water jug. You attach the jug to a post, hang the pheromone bait in the middle, and fill the bottom with soapy water. The adult fall armyworm moths are attracted to the pheromone bait and enter the traps, but then drown in the soapy water.
The first year, in 2015, we used the traps mostly to monitor where the pests were coming from. We set them up when the maize was already getting tall and it was too late to have much effect. The second year we set up the pheromone traps only five days after planting, and they were able to control FAW damage by up to 90-95%! Since then, we have used the traps every year and have had no more problems with the fall armyworm in our maize fields, and were able to free ourselves from buying and using chemicals every year. For the same price of just one chemical application, you can create your own traps that will last for at least two years.
Now, whenever neighboring farmers walk through our fields they always ask us "what is that?" or "what are you doing?" We explain to them what the pheromone traps are and how they work, and at least 10 local farmers have started using them in their own fields, with good results.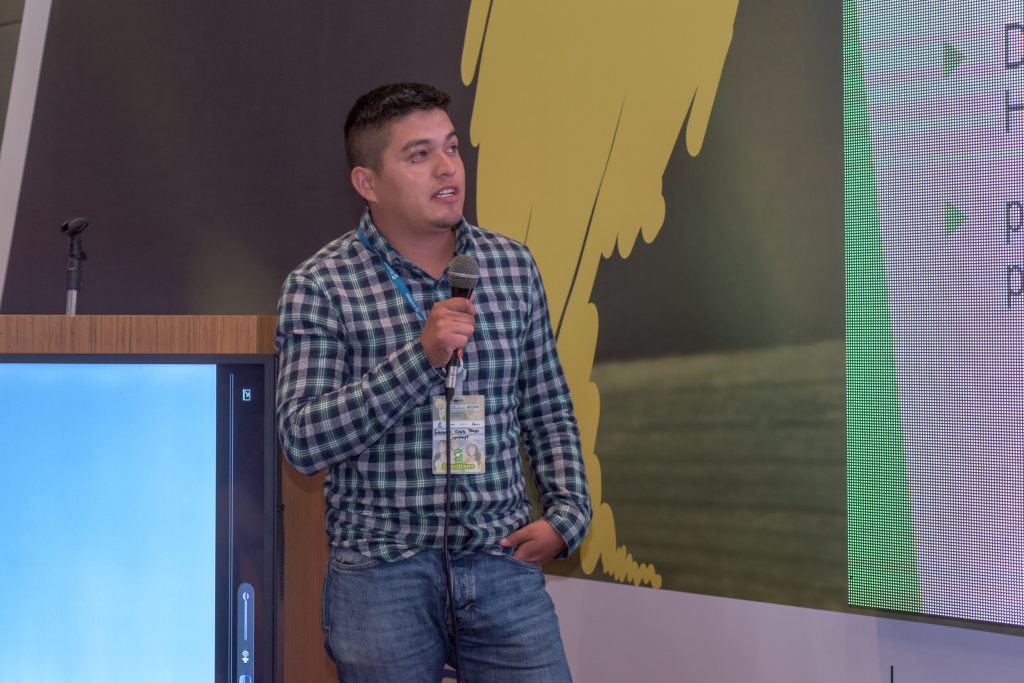 Q.) Your experience breaks the stereotype that youth are not interested in agriculture—in fact, you actively pursued it. What was your inspiration?
A.) No one else in my family is a farmer, I am the first to do this. I began by raising sheep, and when I saw how much they needed to eat I was inspired to grow my own maize and alfalfa to feed them.
I am the youngest of six brothers. All of my older siblings were forced to migrate to the United States for work due to economic pressures, and I stayed behind to take care of my parents. However, by using better production methods, farming has actually been profitable for me, and is the reason that I will be the first in my family to not have to migrate.
When I finished University I began working in an office job in the City of Queretaro, Mexico, but I had always dreamed of having something of my own. I started saving up, and by chance happened to run into my friend who is an agronomist. He invited me to start working with him, and the rest is history.
I really enjoy being a farmer. I get so excited at harvest time to see everything that I have grown, everything that I was able to achieve. In addition to maize we also grow alfalfa, chilies and oats, but it's really been maize that has been profitable for us. We even have our own experimental field. I really like to implement innovations in my field because that is what has made it possible for me to earn a living from agriculture.
Q.) How does it feel to be a winner of the MAIZE Youth Innovators Awards?
A.) I feel proud of my work and my team's work, and proud that it is being recognized. It has been an incredible experience to be able to visit another country and to see the world from another perspective.
Q.) What advice do you have for other young people interested in agriculture?
A.) I would like for more young people to see that they can earn a living from farming if they really dedicate themselves to it. The most important part is to adopt good agricultural practices, and abandon bad practices such as burning crop residues or excessive use of chemicals, which can hurt soil and contaminate water.
If you implement good practices and change the way you do things, you can achieve better yields. This is an opportunity for young people such as myself to earn a better income, put down roots and not be forced to migrate.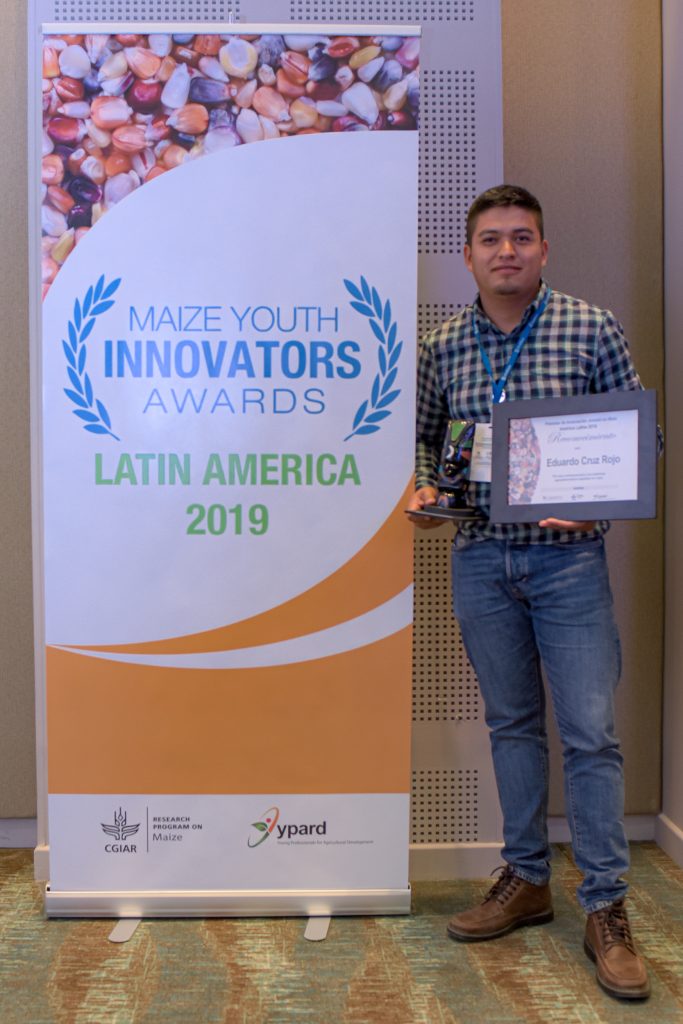 2019 MAIZE Youth Innovators Awards, 2019 MAIZE Youth Innovators Awards Latin America, fall armyworm, Maize, Mexico, MYIA 2019, MYIA 2019 Latin America