Malawi must harness the innovative minds of its youth for a climate smart future: Blessings Likagwa
By: Jennifer Johnson
Blessings Likagwa has a passion for farming. The 29-year-old farmer from Kasungu, Malawi was recently recognized by the 2019 MAIZE Youth Innovators Awards – Africa for his work using data from drones to implement climate smart improvements on his maize farm, and inspiring other local farmers to do the same. Blessings is the first ever winner in the "farmer" category of the awards.
These awards, an initiative of the CGIAR Research Program on Maize (MAIZE), recognize the contributions of young women and men below 35 years of age who are implementing innovations in African maize-based farming systems. This is the second year of the awards, and the first time to be held in Africa. The award ceremony took place in Lusaka, Zambia during the annual Stress Tolerant Maize for Africa (STMA) project meeting May 7-9, 2019.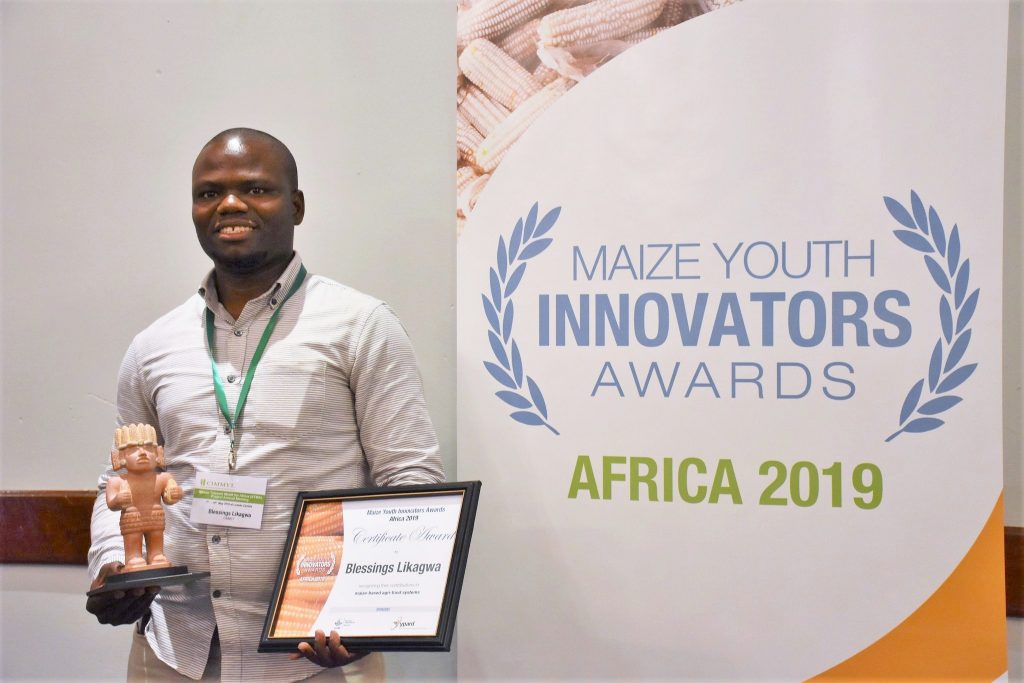 Q: What inspired you to pursue a career in agriculture?
A: I love farming, and have been visiting my parents' and grandparents' farms since I was very small. When I graduated University with a degree in Community Development, my parents bought a small farm and I entered agriculture as it is something I see as important for the development of my country, Malawi.
Q: How does it feel to be named winner of the 2019 MAIZE Youth Innovators Awards – Africa?
A: I was honored to be selected, and feel proud to represent Malawi. I especially enjoyed the opportunity to attend the STMA project meeting where I had the opportunity to interact with maize researchers and learn about maize production, how to monitor and control pests and diseases and how to increase maize breeding efficiency. I also learned about how gender balance is important in agriculture and the importance of involving young people in agricultural systems. The knowledge and skills I acquired will help me to be a better farmer and has given me the confidence to reach out to my fellow young people to help them achieve their goals in agriculture.
Q: Tell us about your innovation?
A: I was selected as one of the winners of the 2019 MAIZE Youth Innovators Awards – Africa due to my work using information from drones to implement climate smart solutions on my farm. In 2018, I was introduced to drone technology due to my farm's proximity to the UNICEF drone corridor. The aim in using drones for agriculture is to improve crop productivity by monitoring pests and diseases, identifying soil erosion hotspots, identifying and managing water stressed crops, and monitoring vegetation health.
Researchers from UNICEF and Kyoto University came to test their drones on my farm, and they invited me to attend trainings on drones. The drones gave me readings on the soil erosion situation on my farm, which allowed me to make changes that yielded excellent results. I stopped burning bushes and crop residue on the erosion-prone land, and instead began to use manure and practice crop rotation and mixed cropping. The drone data also helped us to identify and monitor pests and diseases, such as the fall armyworm, to make more informed pest control decisions. I was very impressed with the drones and the results we were able to achieve on our farm by using the information collected by them, and I was inspired to help other smallholder farmers do the same.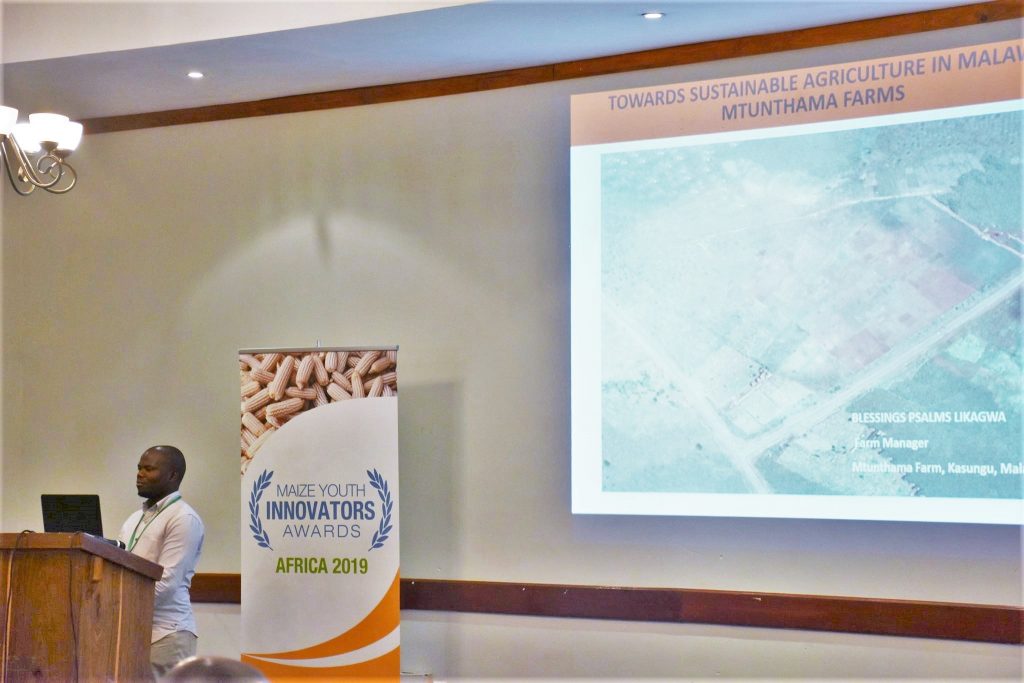 Q: What are your hopes for the future?
A: I believe drone technology can help farmers across Malawi enhance their farm production and mitigate the emerging challenges from climate change. However, despite having important technological solutions within reach, the average Malawian has no means to access technology or training to help them address these challenges. Young people must be empowered with the necessary skills and training to improve agriculture and maize-based systems.
My dream is to one day get my own drone equipment and use it to help other smallholder farmers adapt to climate change by supporting them to adopt better methods of farming as recommended by the drone data. I would especially like to work with youth, as I believe innovative technology such as drones could inspire them and provide an opportunity for them to enter agriculture and help their communities.
Q: What advice do you have for other young people interested in agriculture?
A: As our country faces the cascading stressors of climate change and rapid population growth, the problems we face will only become more severe. All Malawians must take the initiative to participate in sustainable agriculture and climate smart action. Returning from Zambia I am motivated to help Malawi's young farmers empower themselves with training and knowledge. I believe many young people in our country have innovative solutions and should be supported to make these solutions a reality.

If we hope to achieve a sustainable future, we must act now. We must not neglect the human capital and ingenuity lying wait in the minds of our young generation. Given an opportunity to flourish, I believe Malawi's young people can usher in a new age for our country and lead us into a bright, sustainable and climate friendly future.


2019 MAIZE Youth Innovators Awards, Maize, Malawi, MYIA 2019, UAV