Scientists harness efforts to increase use of stress tolerant maize by smallholder farmers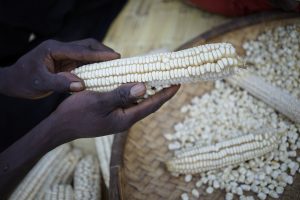 The agricultural research sector is taking aim at a longtime foe of African smallholder farmers — old seeds.
More than 100 research partners and funders will meet in Kampala, Uganda from Jan. 30 to Feb. 1, 2017 to discuss ways to encourage Africa's seed sector to replace old maize varieties with new, robust and more resilient varieties and help smallholders realize yield potential amid climate change challenges.
The meeting, to be opened by Hon. Vincet Bamulangaki Sempiija, Uganda's minister of agriculture, marks the first anniversary of the launch of the Stress Tolerant Maize for Africa (STMA) project. STMA was launched in Africa to help smallholders mitigate the impact of combined multiple stresses affecting maize farming, including, heat, drought, poor soil fertility, Striga and such diseases as Maize Lethal Necrosis (MLN), Gray leaf spot, Turcicum leaf blight among others.
In addition to developing new stress tolerant maize varieties, the International Maize and Wheat Improvement Center (CIMMYT), the International Institute of Tropical Agriculture (IITA) and partners have made it a priority to facilitate the replacement of old and obsolete varieties with some of the over 230 improved drought tolerant varieties released by national research organizations and seed companies across 13 African countries over the past ten years.
Currently, only 57 percent of the maize-growing area in sub-Saharan Africa is planted to improved varieties. While this is a substantial improvement compared to improved variety adoption rates reported in the late 1990s, some top varieties still grown in the 13 surveyed countries have been on the market for more than 20 years.
Through sustained efforts, big varietal replacement and dissemination successes have been reported in Angola, Ethiopia, Kenya, Malawi, Mozambique, Tanzania, Uganda, Zambia and Zimbabwe, where about 30 old varieties – between 13 and 60 years old – have either been replaced or are soon to be replaced, thanks to ongoing intensive engagement with seed companies supported by strong national systems.
For instance, Uganda's varieties Longe5 and Longe4, which were both released in 2000 are being replaced by two improved hybrids Longe10H and Bazooka, respectively. These two hybrids are drought tolerant and high yielding, giving farmers an average yield of between 7 to 9 metric tons per hectare. Bazooka has demonstrated tolerance to MLN; a disease that has devastated smallholder farm yields in eastern Africa since 2011.
"Uganda has approximately 15 improved drought tolerant varieties that seed companies are marketing to farmers across the country," said Godfrey Asea, director of the National Crops Resources Research Institute (NaCRRI).
"As government we are committed, to strengthening the seed industry, first by addressing the gap in seed demand and combating the problem of fake seed that has proliferated the market discouraging farmers from buying the improved certified varieties, and second, work with our partners to gradually replace old varieties that are now low yielding and less stress tolerant."
Benin, Ghana, Mali and Nigeria are also targeted for varietal replacement. Improved seed promotion is a key focus area, said Tsedeke Abate, leader of CIMMYT's maize seed systems in Africa.
"Africa's seed sector is the force behind our goal for a food secure continent," Abate explained. "We are therefore very keen to ensure the maize market in Africa is more resilient than before to deal with current pressing challenges like climate change through quality seed with desirable traits preferred by smallholders. This is extremely important and our part is to help seed companies access improved varieties and technical support to produce high quality seed."
By 2015, 60,000 metric tons of drought tolerant maize were produced, in sub-Saharan Africa, covering approximately 2.4 million hectares and benefiting about 6 million households. STMA partners will intensify this work to cover another 2.1 million hectares of sub-Saharan Africa's maize growing area with over 54,000 tons of modern varieties by 2020 for 5.4 million households across 12 targeted countries (Ethiopia, Kenya, Tanzania, Uganda, Malawi, South Africa, Zambia, Zimbabwe, Benin, Ghana, Mali and Nigeria).
Complementing improved maize varieties with improved agronomic management practices is key to transforming Africa's agricultural sector, said B.M. Prasanna, director of CIMMYT's Global Maize Program and the CGIAR Research Program MAIZE.
"Policy makers in the national governments, funding organizations, and regional bodies have been quite supportive of this important initiative," he said.
"We need governments in sub-Saharan Africa to further strengthen this movement by enhanced investment on agricultural research and development, and by creating enabling environment to facilitate varietal turnover in Africa's maize value chain. Farmers must be made aware of the existence of such climate-resilient improved maize varieties and have access to high-quality seed at an affordable price to increase adoption."
FOR FURTHER INFORMATION
Tsedeke Abate
Project Leader STMA
Leader, Maize Seed Systems in Africa
International Maize and Wheat Improvement Center (CIMMYT) T.D.Abate@cgiar.org
Godfrey Asea
Director
National Crops Resources Research Institute (NaCRRI)
National Agricultural Research Organization directornacrri@nacrri.go.ug
FOR MEDIA INQUIRIES
Brenda Wawa Communications Officer (CIMMYT–Kenya)
International Maize and Wheat Improvement Center (CIMMYT) B.Wawa@cgiar.org
Twitter: @bwawa_b