New technical guide to help farmers protect against fall armyworm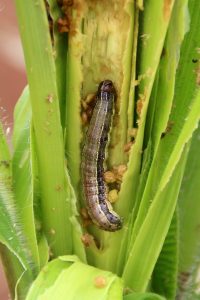 A new comprehensive integrated pest management (IPM)-based technical guide produced by international experts will help scientists, extension agents and farmers to tackle the fall armyworm (Spodoptera frugiperda), which has rapidly spread across the African continent in the last two years, decimating maize crops in its path.
"Fall Armyworm in Africa: A Guide for Integrated Pest Management," jointly produced by Feed the Future, the United States Agency for International Development (USAID), the International Maize and Wheat Improvement Center (CIMMYT) and the CGIAR Research Program on Maize (MAIZE), provides tips on fall armyworm identification as well as technologies and practices for effective control.
Native to North America, the fall armyworm has recently emerged as a major threat in Africa, where it has been identified in over 30 countries since it was first confirmed on the continent in January 2016. The pest can potentially feed on 80 different crop species but has a preference for maize, which poses a significant threat to the food security, income and livelihoods of over 300 million African smallholder farm families that consume maize as a staple crop.
"The potential impact of the fall armyworm as a major food security and economic risk for African nations cannot be overstated," said Martin Kropff, director general at CIMMYT.
If proper control measures are not implemented, the fall armyworm could cause extensive maize yield losses of up to $6.2 billion per year in just 12 countries in Africa where its presence has been confirmed, according to the Centre for Agriculture and Biosciences International (CABI).
"The fall armyworm poses an enormous and wide-scale risk to the livelihoods of several million African smallholders, and requires urgent deployment of an IPM strategy and quick response from all stakeholders," said B.M. Prasanna, director of MAIZE and the Global Maize Program at CIMMYT. "The Fall Armyworm Integrated Pest Management Guide provides comprehensive details on the best management practices to help smallholder farmers effectively and safely control the pest while simultaneously protecting people, animals and the environment."
To read "Fall Armyworm in Africa: A Guide for Integrated Pest Management," please click here.
Africa, CIMMYT, fall armyworm, integrated pest management, USAID