MAIZE Annual Report 2018

The MAIZE Annual Report 2018 is now online! To go directly to the online version of the report, please click here.
The CGIAR Research Program on Maize (MAIZE) continues to achieve significant development outcomes and impacts through varietal release, scale-up, delivery and adoption of CIMMYT and IITA-derived climate-resilient and nutritionally enriched maize varieties. In 2018, national partners released 81 unique CGIAR-derived maize varieties across Africa, Asia and Latin America. Of these varieties 14 were hybrid combinations, showing that regional/multinational seed companies use MAIZE improved germplasm to develop and release improved maize hybrids.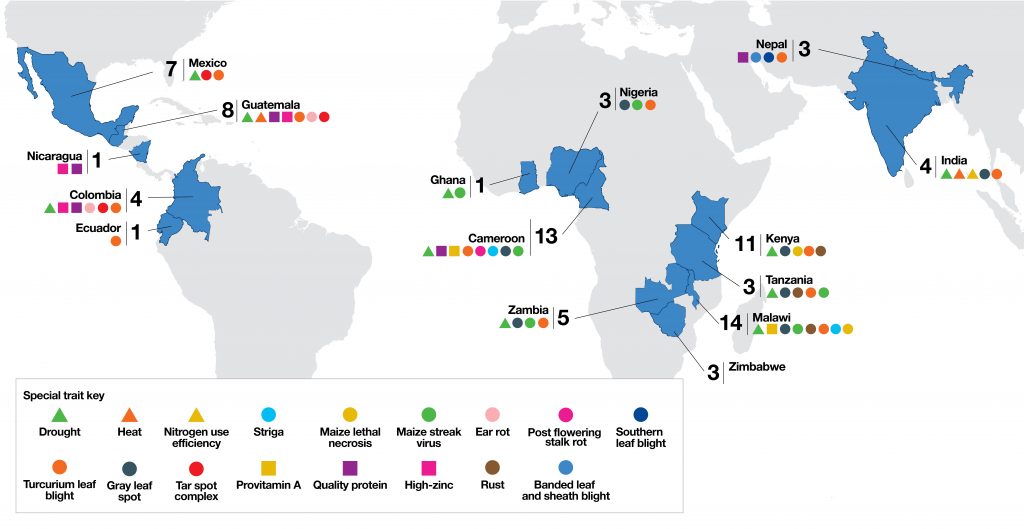 20 of the released varieties are nutritionally enriched – provitamin A, quality protein maize (QPM), high-zinc – the result of the MAIZE partnership with the CGIAR Research Program on Agriculture for Nutrition and Health (A4NH; HarvestPlus).
As you will read in this report, MAIZE and partners have made great strides in 2018 combatting major pest and disease challenges such as maize lethal necrosis (MLN) and the devastating fall armyworm (FAW).
MAIZE researchers found that sustainable intensification practices in combination with stress tolerant maize led to higher yield gains during the El Nino year in Southern Africa.
Meanwhile, a crop growth modelling study quantified the impact of climate change on maize and found combined drought and heat stress tolerance has a benefit at least twice that of either one alone.
None of this work would be possible without the generous and continued support from our funders, in particular, stable CGIAR Window 1 and 2 funding. The CGIAR Research Program on Maize (MAIZE) receives W1&W2 support from the Governments of Australia, Belgium, Canada, China, France, India, Japan, Korea, Mexico, Netherlands, New Zealand, Norway, Sweden, Switzerland, United Kingdom (DFID), United States (USAID) and the World Bank.
We would like to give our heartfelt thanks to all MAIZE partners, funders and stakeholders for their active participation and support. We hope you enjoy this year's Annual Report as we look back upon our outcomes and achievements in 2018, while working towards enhancing our impact in 2019 and beyond.
B.M. Prasanna
Director of the CGIAR Agri-Food Systems Research Program on Maize
To read the full MAIZE Annual Report 2018, please click here.