The Skywalker Project: Soaring to New Heights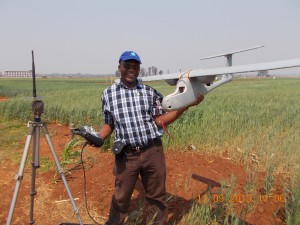 Though its name implies science fiction, Skywalker's results have been incredibly real. A small, unmanned aerial vehicle equipped with remote sensing devices, Skywalker flies over maize fields collecting images and data. It is able to measure several hundred plots in one take. Spectral reflectance and thermal imagery cameras on its wings allow scientists to conduct non-destructive screening of plant physiological properties such as crop growth and water use, at enough resolution to obtain information at plot level.
Under a competitive grant from the MAIZE CRP, the 'Affordable Field Based HTPP' or Skywalker project seeks to make state-of-the-art, but affordable, aerial phenotyping platforms available to National Agricultural Research Systems (NARS) to develop new varieties that are tolerant to drought, heat and low nitrogen. It is being developed in collaboration by researchers from the University of Barcelona, Spain; Crop Breeding Institute (CBI), Zimbabwe; Instituto Nacional de Innovación Agraria, Peru; AirElectronics; and Sustainable Agricultural Institute of the High Research Council, Spain.
Charles Mutimaamba, Chief Research Officer and Maize Breeder at CBI and Collaborating Scientist with the Skywalker project, as well as Jill Cairns and Mainassara Zaman-Allah, CIMMYT maize physiologists, recently took the time to provide updates on the project's challenges and successes thus far.
Q: Why was the Skywalker project initially developed?
Jill: The project was developed to bridge the gap between expensive phenotyping platforms being developed at agricultural research institutes and plant breeding institutes in regions of the world where increasing yields is critical for food security.
Q: What, in your opinion, are the project's main achievements so far?
Mainassara: The development of an affordable phenotyping platform that is able to deliver spatial field variability and secondary trait data that can be used to increase breeding gains and enhance NARS awareness of the technological innovation opportunities for research and capacity building that can be gained by partnering with organizations such as CIMMYT.
Q: What has been the greatest challenge?
Charles: The multi-stakeholder involvement in the project has been a little challenging in terms of the geographical distances involved, but one benefit is that you get people with diverse skills involved.
Q: The CBI in Zimbabwe recently received the prestigious Robert Gabriel Mugabe Award for Outstanding Research. Did the Skywalker project contribute to this award?
Charles: Yes, it did. When we submitted our award nomination, one key activity that we mentioned was embracing and making use of the latest technologies available, specifically the Skywalker, to make our research more precise. The organizers took serious note of that.
Q: The project started out as a small pilot grant of the CRP, yet in just a few years, breeders' interest in the project has greatly increased. What do you think caused this?
Mainassara: Several programs such as the Global Conservation Agriculture Program, visiting NARS from Zambia, private companies from South Africa and colleagues from India have expressed interest in the platform. Breeders are primarily focused on yields; they run many plots across multiple locations and require fast data turnaround for planning the next season. Therefore, they will only take up a new tool if it can reduce their workload and increase gains, and that is what Skywalker does.
Q: As a NARS, what do you believe has been the biggest benefit of partnering with the MAIZE CRP and with CIMMYT on the Skywalker project?
Charles: One big benefit has been the provision of resources, which for NARS can sometimes be a big challenge and serious problem. Then there are benefits from the CRP such as the opportunity to network with institutions such as the University of Barcelona and QuantaLab in Spain. Our view is that it has opened doors for us as an institution, which will allow us to strengthen our skills and expertise so that in the long run the project is sustainable.
Q: What do you see as the future of remote sensing technology such as the Skywalker in agriculture?
Jill: This technology has great potential to be used to curb the spread of maize lethal necrosis (MLN). Screening for MLN currently involves visual ratings of disease severity, which is time consuming and subjective. In addition, these measurements have to be taken many times in many fields over a short period of time. Based on the success of the Skywalker project, it was decided that remote sensing could be used to rapidly and quantitatively measure the severity of MLN symptoms in individual plots. The MAIZE CRP recognized phenotyping for MLN as a research gap and there is now a new MAIZE strategic grant to apply this technology in the development of MLN tolerant maize germplasm with the Kenya Agricultural and Livestock Research Organization and the University of Barcelona.
Please click here for more information on the Skywalker and other aerial remote sensing devices.
Africa, crop breeding institute, remote sensing, Skywalker, Zimbabwe