New CIMMYT pre-commercial hybrids for southern Africa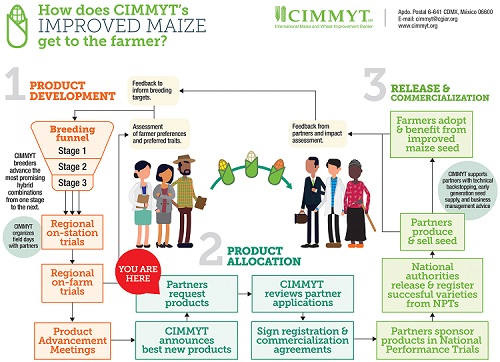 The International Maize and Wheat Improvement Center (CIMMYT) is offering a new set of improved maize hybrids to partners in southern Africa and similar agro-ecological zones, to scale up production for farmers in these areas.
National agricultural research systems and seed companies are invited to apply for the allocation of these pre-commercial hybrids, after which they will be able to register, produce and offer the improved seed to farming communities.
January 3, 2019 is the deadline to submit applications to be considered during the next round of allocations. (Applications received after that deadline will be considered during the following round of product allocations.)
To apply, please fill out the CIMMYT Improved Maize Product Allocation Application Form (both Form A and Form B are required).
Please send completed forms via email to GMP-CIMMYT@CGIAR.ORG
Please note: This form has been updated since the last cycle; please download a fresh copy from the link above. Applications using the old format may not be accepted.
Information about the newly available hybrids, application instructions and other relevant material can be downloaded at the following links:
Or download individual files below:
Announcement of the Results of the Maize Regional Trials Conducted by CIMMYT-SARO 2018 Season.
Table 1. 2018 CIMMYT-SARO Trial Site Information
Table 2. 2018 CIMMYT-SARO available early and extra-early maturing hybrids (EHYB18)
Table 3. 2018 CIMMYT-SARO available medium maturing hybrids (IHYB18)
Table 4. 2018 CIMMYT-SARO available late maturing hybrids (LHYB18)
Table 5. 2018 CIMMYT-SARO available high quality protein maize hybrids (ADVQPM18)
………..