Maize breeding on track for climate change in Africa, scientist urges bigger investments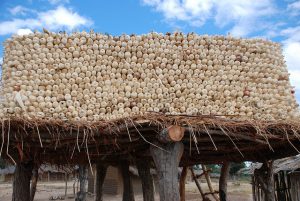 By Julie Mollins
A comprehensive study of genetic gains resulting from long term breeding work on improved hybrids and open-pollinated varieties (OPVs) in eastern and southern Africa shows that with appropriate funding, maize yields can continue to increase in extreme heat and drought conditions.
Investments into maize breeding and seed systems must expand to keep up with the capacity to withstand climate variability in the region, said Jill Cairns, one of the authors of the study, emphasizing that maize breeding is on track to meet the challenges of climate change in Africa.
The region is currently experiencing large climate variability, including the 2014-2015 drought; the 2015-2016 El Nino and severe drought and flooding in 2016-2017.
"We see evidence that increased investment works," said Cairns, a maize physiologist with the International Maize and Wheat Improvement Center (CIMMYT) in Zimbabwe. "Although our breeding work has led to higher genetic gains, yields remain lower, reflecting smaller research investments over time. On the other hand, in countries like the United States and China, which have become the top two maize producers worldwide, we see the beneficial impact of steady investments."
Varieties released by CIMMYT's partners in sub-Saharan Africa between the years 2000 and 2010, showed that genetic gains for yields made through this improved maize germplasm compare favorably with similar studies in other regions in better growing conditions — in China and the United States, for example.
On average, under optimal conditions, CIMMYT maize breeders increased yields by 109 kilograms per hectare per year, under managed drought conditions, 33 kilograms per hectare per year and under random drought conditions, 23 kilograms per hectare per year. By comparison, in China, under optimal conditions, gains were estimated at 95 kilograms per hectare per year and in the United States, 65 to 75 kilograms per hectare per year.
"Breeding is a long term investment but it ultimately pays off through improved varieties for smallholder farmers," said Jill Cairns, a maize physiologist with CIMMYT in Zimbabwe, describing the impact of the breeding program in sub-Saharan Africa, which has been underway for more than 30 years.
"We're constantly changing the breeding pipeline to ensure that the genetic gains are continuously increased," she added. "Gains are illustrated by sustained increases in grain yield over time. In fact, we expect to see a higher genetic gain through the more recent hybrids developed by CIMMYT maize breeding team than those reported in the study undertaken on hybrids released between 2000 and 2010 because we've added a lot of new tools and we are incorporating many new technologies to further increase gains."
The study confirmed that the lowest genetic gains occurred under low nitrogen conditions where little fertilizer was used, Cairns said, emphasizing the importance of increasing the potential for genetic gains to boost grain yields in areas with poor soil fertility throughout the region.
Scientists working with the CIMMYT maize breeding program primarily focus on developing hybrids, which result from the deliberate crossing of genetically diverse inbred lines that exhibit a wide variety of traits that are relevant for smallholders in the tropics.
Improved OPVs developed at CIMMYT, using selected sets of inbred lines to reflect traits of the parental lines.  In general, genetic gains in the OPVs released during the period under review were found to be higher than for the hybrids, although grain yields in the hybrids were certainly higher.
Resource-poor farmers in some African countries tend to use drought-tolerant improved OPVs, especially where the maize seed sector is weak or improved hybrid seeds are unavailable or unaffordable.
"Accessing hybrid seeds can be a real challenge for resource-poor, smallholder farmers in some areas," Cairns said. "Hybrids also pose a conundrum for farmers in extremely drought-prone areas, where the tendency is to minimize the risk by using low-cost improved OPVs rather than investing in relatively higher-cost hybrid seeds."
Yield gain in the CIMMYT-derived hybrids in eastern and southern Africa during the study period is comparable with gains reported in the United States and China. However, absolute yields in the region are still lower, reflecting the opportunity to further improve the yield potential of tropical maize, including in stress-prone environments.
Additionally, maize yields in sub-Saharan Africa, where maize accounts for 50 percent of cereal production in over 50 percent of countries, are still the lowest in the world.  National maize yields in 30 countries in the region remain much lower than yields were in the U.S. Corn Belt in 1926 before hybrids were introduced!
Since the CIMMYT breeding program started in Zimbabwe in 1985 (part of the southern Africa region where maize accounts for 45 percent of calories and 43 percent of protein from cereals consumed), scientists have focused on increasing drought tolerance, among other important traits. Currently, the Stress Tolerant Maize for Africa (STMA) project operates in 11 countries across sub-Saharan Africa.
Continual evaluation is a critical component of crop improvement, according to scientists.
"Quantifying genetic gain each year is an integral part of our product development process," said B.M. Prasanna, director of CIMMYT's Global Maize Program, and the CGIAR Research Program MAIZE. "This enables us to measure the progress being made, and to make necessary adjustments for continuous improvement of the performance of our products in the target agro-ecologies we serve."
The research benefits are far-reaching.
In these two first-ever reviews evaluating genetic gains through CIMMYT's maize breeding program in eastern and southern Africa, we get a clear understanding of benefits and impact of improved maize hybrids and OPVs released during 2000 to 2010, said Marianne Bänziger, who previously led the CIMMYT maize program, and is now deputy director general of research and partnerships at the organization.
"Use of improved seed has been increasing in sub-Saharan Africa and greater uptake is mostly a question of where the seed sector reaches," Bänziger said. "The issue of variety replacement is complex. Working with governments and seed companies is a key part of our role."
The dissemination and adoption of drought tolerant maize could generate as much as $590 million for farmers over a seven-year period, Cairns said. "As we take stock of the important role our work has played in this impoverished and environmentally harsh region, we're grateful for the vital funding we receive from various agencies, especially the Bill & Melinda Gates Foundation, the U.S. Agency for International Development, and the CGIAR research program MAIZE."
Read the research papers:
Gains in Maize Genetic Improvement in Eastern and Southern Africa: 1. CIMMYT Hybrid Breeding Pipeline
Gains in Maize Genetic Improvement in Eastern and Southern Africa: II. CIMMYT Open-Pollinated Variety Breeding Pipeline