Farmers flock towards nutritious, orange maize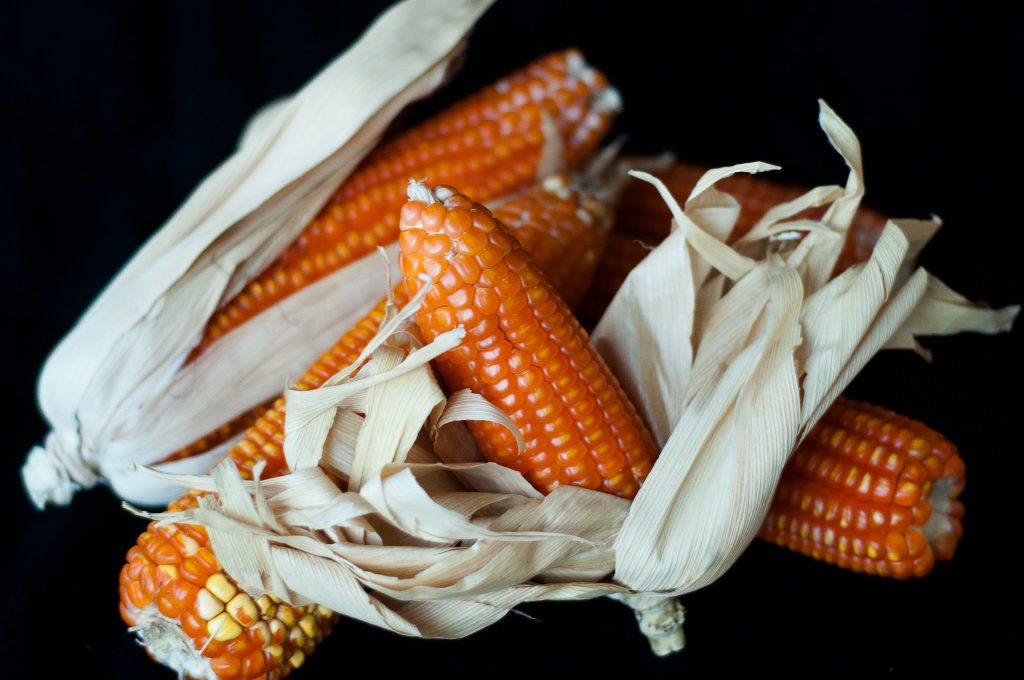 This article by Shiela Chikulo was originally published on the website of the International Maize and Wheat Improvement Centre (CIMMYT).
At seed fair in Masvingo District, Zimbabwe, farmers browse numerous displays of maize, sorghum, millet, groundnuts and cowpeas presented by the seed companies gathered at Muchakata Business Centre.
The event — organized by the International Maize and Wheat Improvement Center (CIMMYT) as part of the R4 Rural Resilience Initiative — is promoting a range of stress-tolerant seeds, but there is a particular rush for the vitamin A-rich, orange maize on offer. Farmers excitedly show each other the distinctive orange packets they are purchasing and in no time all, this maize seed is sold out at the Mukushi Seeds stand.
"I first saw this orange maize in the plot of my neighbor, Florence Chimhini, who was participating in a CIMMYT project," explains Dorcus Musingarimi, a farmer from Ward 17, Masvingo. "I was fascinated by the deep orange color and Florence told me that this maize was nutritious and contained vitamin A which helps to maintain normal vision and maintain a strong immune system."
"I would like to grow it for myself and consume it with my family," says Enna Mutasa, who also purchased the seed. "I heard that it is good for eyesight and skin — and it is also tasty."
Knowledge transfer through mother trials
Florence Chimhini is one of ten farmers who has participated in the "mother trials" organized as part of the Zambuko/R4 Rural Resilience Initiative since 2018.
These trials were designed in a way that allows farmers to test the performance of six different maize varieties suited to the climatic conditions of their semi-arid region, while also growing them under the principles of conservation agriculture. Using this method, farmers like Chimhini could witness the traits of the different maize varieties for themselves and compare their performance under their own farm conditions.
An important outcome of the mother trials was a growing interest in new varieties previously unknown to smallholders in the area, such as the orange maize variety ZS246 which is sold commercially by Mukushi Seeds.
"Recent breeding efforts have significantly advanced the vitamin A content of orange maize varieties," says Christian Thierfelder, a cropping systems agronomist at CIMMYT. "However, the orange color has previously been associated with relief food — which has negative connotations due to major food crises which brought low quality yellow maize to Zimbabwe."
"Now that farmers have grown this maize in their own mother trial plots and got first-hand experience, their comments are overwhelmingly positive. The local dishes of roasted maize and maize porridge are tastier and have become a special treat for the farmers," he explains.
"Though not as high yielding as current white maize varieties, growing orange maize under climate-smart conservation agriculture systems can also provide sustained and stable yields for farm families in Zimbabwe's drought-prone areas."
Addressing micronutrient deficiency
In Zimbabwe, at least one in every five children suffers from ailments caused by vitamin A deficiency, from low levels of concentration to stunting and blindness. The vitamin is commonly found in leafy green vegetables, fruits and animal products — sources that may be unavailable or unaffordable for many resource-poor households.
Staple maize grain, however, is often available to smallholder families and thus serves as a reliable means through which to provide additional micronutrient requirements through conventional biofortification. This allows people to improve their nutrition through the foods that they already grow and eat every day, says Lorence Mjere, a seed systems officer at HarvestPlus Zimbabwe.
The beta-carotene in orange maize gives it its distinctive orange color and provides consumers with up to 50% of their daily vitamin A requirements.
"Orange maize addresses hidden hunger in family diets by providing the much-needed pro-vitamin A which is converted to retinol upon consumption," explains Thokozile Ndhlela, a maize breeder at CIMMYT. "In doing so, it helps alleviate symptoms of deficiency such as night blindness and poor growth in children, to name just a few."
The success of the recent seed fairs shows that provitamin A maize is gaining momentum among smallholder farmers in Masvingo and its continued promotion will support all other efforts to improve food and nutrition security in rural farming communities of southern Africa.