As temperatures soar, Zimbabwe's farmers test maize that can cope
By Busani Bafana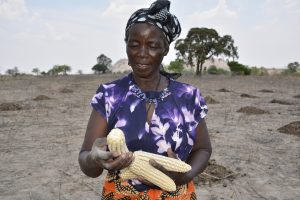 Apolonia Marutsvaka looks triumphant as she shows off one of her three bags of gleaming white maize. She harvested the grain in the midst of a drought and sapping heat that charred many other types of crop.
The secret of her successful harvest is simple: A type of maize seed that has been bred to tolerate high temperatures.
"It has never been this hot, but (this) variety of maize performs well in the heat," said the 62-year-old Marutsvaka. "I am preparing my maize field to plant it again."
Marutsvaka is hopeful the new variety will continue to ensure her a harvest even as temperatures soar above 30 degrees Celsius here in Masvingo Province and across Zimbabwe.
Maize is the key ingredient for sadza, a stiff porridge that is the national staple food. Worried about the projected impact of increasing heat on maize as a result of climate change, researchers at the International Maize and Wheat Improvement Center (CIMMYT) and the Research Programme on Maize of CGIAR, a global agricultural research organisation, have bred heat-tolerant varieties of maize.
The seeds, developed over the past five years with funding from the U.S. Agency for International Development, have been trialled by farmers in Algeria, Egypt, Malawi, South Africa, Zambia and Zimbabwe.
For more than five years, drought-tolerant seeds have been available through a partnership between CIMMYT and the Drought Tolerant Maize for Africa project. Used in combination with good agricultural practices, they have performed better than other hybrid seeds, their backers say.
FACING HEAT AND DROUGHT
The new heat-tolerant seeds also have drought-tolerant characteristics, making them especially attractive to farmers in semi-arid areas like Zimbabwe's Masvingo Province which receives no more than 600mm of rainfall annually.
Marutsvaka is one of the farmers who have tested the new maize variety, and she says it has worked in her fields.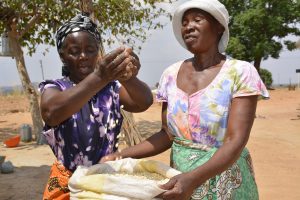 "In the last two seasons, I got nothing from my field," she explained. "All the maize plants shrivelled in the heat. But this season I harvested three 50kg bags and two 20-litre tins (40kg) of white maize.
"The flour pounds well and the sadza tastes so good," she added.
Farmer Karikoga Muromo harvested 200kg of maize last season using the heat-tolerant seeds. He said the new variety works best when combined with farming practices such as planting the seeds on raised ridges of soil and keeping a careful record of rainfall patterns to know the best time to plant.
Maize accounts for 90 percent of the annual cropped area in Zimbabwe, but production has been affected by the drought afflicting most of southern Africa. The United Nations World Food Programme forecasts that maize production will fall below 60 percent of the five-year average in Zimbabwe.
This year Masvingo Province, in southeast Zimbabwe, has lost over 5,000 cattle to drought, and more than 500,000 people are in need of food aid. Villagers are surviving on food handouts, cash transfers for food from local non-governmental organisations and a government food-for-work programme.
According to the Intergovernmental Panel on Climate Change, temperatures are increasing in Africa and the past three decades have been the warmest on record.
Studies conducted in 2011 by the CGIAR Research Program on Climate Change, Agriculture and Food Security (CCAFS) identified heat stress as a major threat to maize harvests in sub-Saharan Africa, a problem exacerbated by drought and low soil fertility, experts say.
Recent research by CCAFS and the University of Leeds has shown that warming is outpacing crop breeding in Africa.
"Part of the reason for this is the long time it takes (around 20 years on average) to produce a new variety, get it approved, through markets and into farmers' hands," said Andrew Challinor, a scientist with CCAFS.
"By the time the varieties being currently developed are in the fields, they will be mismatched to the average temperatures they experience."
A maize researcher at CIMMYT, Jill Cairns, said the centre's scientists have cut the breeding time for new crop varieties by up to five years, which should enable them to have the heat-tolerant seeds in the farmers' hands by 2018.
BUT WILL THEY BE USED?
But creating seeds that work doesn't guarantee they will be used. Enniah Tirivaviri, an extension officer in Zimbabwe's Ministry of Agriculture, said many risk-averse farmers prefer to use seeds they are familiar with.
But the heat-tolerant seeds have changed minds in Zaka District, convincing many farmers that maize can be a viable crop under drought conditions, particularly since the heat-tolerant seeds cost no more than conventional ones.
"In the past it was sensible for farmers to grow the hybrids they knew, but now that the climate has changed, it is time for farmers to change too," said Cosmos Magorokosho, a CIMMYT scientist.
Local companies that already distribute drought-tolerant seed expect a boom in sales with the commercialisation of heat-tolerant varieties.
Managing director of Zimbabwe Super Seeds, Nelson Munyaka, said heat-tolerant varieties will improve food security in areas like Zaka District threatened by unpredictable weather.
Farmer Marutsvaka's success with the heat-tolerant seed has inspired her neighbours, who now want to try it as well.
"I want these seeds because there is assurance of a harvest even when the temperatures are high, like in our district," said farmer Loveness Manjeru.
This article originally appeared on www.trust.org of the Thomson Reuters Foundation.  Reporting by Busani Bafana; editing by James Baer and Laurie Goering.
Please credit the Thomson Reuters Foundation, the charitable arm of Thomson Reuters, that covers humanitarian news, climate change, women's rights, trafficking and property rights. Visit https://news.trust.org/climate.
Africa, CCAFS, CIMMYT, climate change, drought tolerance, DTMA, Maize, Zimbabwe